off the printer;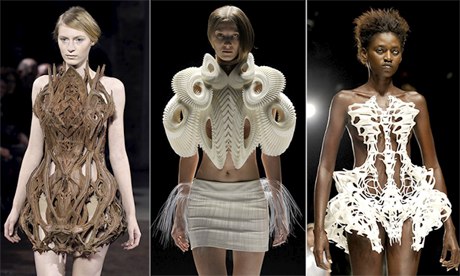 Creations by Dutch designer Iris Van Herpen during
the Spring/Summer 2012 Haute Couture collection
show, on 23 January 2012 in Paris. Photograph:
AFP/Getty Images/Francois Guillot/Getty Images for
IMG/Gareth Cattermole/Corbis/Britta Pedersen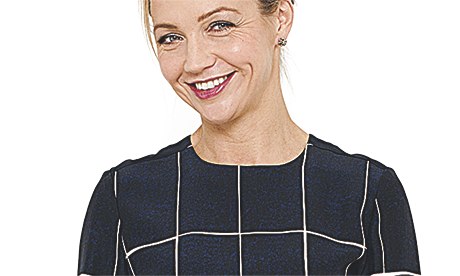 This is what happens when an age of minimalism on the catwalk cross-pollinates with an era of cost-of-living crisis on the ground. You get a season in which the must-have prints to emerge from Paris fashion week, the looks most coveted among the cognoscenti, are patterns modelled on office-block windows and plastic laundry holdalls. The plainest windowpane squares and the unfashiony fuzziness of traditional launderette bag checks – bags that are lent bleakness by their habit of turning up in the shopping trolleys of the homeless – are the inspiration for some of the most fashionable coats, tunics and bags this autumn. When Chanel said fashion reflects the times we live in, that wasn't just cocktail-party chat.
There is more than a hint of Zoolander here. (Especially when people in fashion insist on referring to launderette checks as "iconic", which is gratingly let-them-eat-cake. Marilyn Monroe was iconic. The Eiffel Tower is iconic. A launderette check is recognisable.) But it is bracing to realise that the Breton stripe – which felt like post-bling fashion, a sartorial Keep Calm And Carry On sign – was, with hindsight, not austerity itself but just a staging post on the way there from bling. The Breton stripe is about a simple life, but it's the kind of simple life that involves a Pashley bicycleand homebaked flapjacks. The launderette check is just cheap and humdrum, with no references to apple-cheeked wholesomeness.
We have shifted from the jauntiness of stripes to the office-block-window effect of repeated open squares, whether neatly aligned or overlapping. This is typical of where fashion's head is at now, with its new vogue for the avant bland, which aligns the aesthetic of clothes with that of the mundane – floor mops, laundry holdalls, food packaging – rather than aspiring to the beauty of orchids or Chinese porcelain or the colours of Matisse. A Breton stripe is a uniform to be worn with pride, whether by fishermen or middle-class holidaymakers, but a windowpane or launderette check is a uniform for the urban peasantry. But if that sounds depressing, bear in mind that this look is more slimming than a stripe. Silver linings, right?