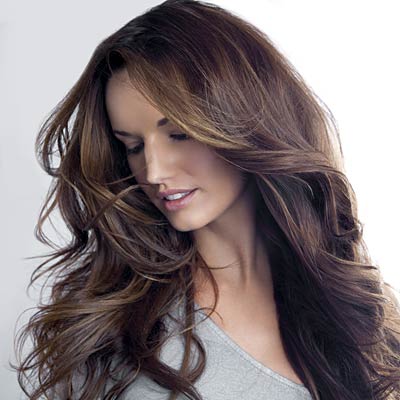 Remember when there were two options for styling with a hot tool, straight or curly? Well, now there's a gizmo for virtually any style you crave. That's convenient, since everything from super straight to '40s-inspired pin curls is hot right now: "On the runway, we're seeing a big mash-up of glam, grunge and sleek," says Jeanie Syfu, lead stylist for Tresemmé at New York Fashion Week, who created the edgy yet polished locks at Nanette Lepore's spring show and the soft,'70s-style curls at Jenny Packham's. "Everything is in. It all comes down to your personal style." Here, discover the exact right tool for whatever look you're after

How it works: Place a half-inch to 1-inch section of hair in the chamber (you can't force in more than that), aiming the opening toward your head. Press down on the curler so the barrel draws hair in. When you hear the final beep, release for a perfectly coiled tendril. No accidental burns here!

Pro tip: "You don't want all the curls to fall in the same pattern," says Benjamin Mohapi of Benjamin With Negin Zand in West Hollywood. After curling, throw your head upside down and shake hair out so curls come apart a bit
The tool:
Paul Mitchell Neuro Unclipped 1-inch rod,
Try it if...
You want (seemingly) effortless loose curls that don't fall flat.
How it works:
Put your forearm over the top of your head with the clampless, tapered wand facing down. Wrap hair around it like a ribbon, from the thick base toward the thinner tip.
Pro tip:
All done? Spray with hairspray, let curls cool into shape, then brush through for "amazing airy, bouncy hair," as Mohapi describes it.
The tool: Ion Titanium Triple Barrel waver,

Try it if... You're in a rut and long to try something trendy.

How it works: Today's crimpers are bigger than their '80s-style versions, giving "more of a soft ripple than a severe zigzag," says Mohapi. Lift a 2-inch section of hair, sandwich it between the clamp for about five seconds, then release. Continue downward.

Pro tip: Not up for a whole head of crimped hair? Just do your ponytail: "The smoothness in the front makes the look extremely wearable," says Mohapi.
The tool: Sarah Potempa Beachwaver,

Try it if... You have medium to long hair and are shooting for cascading waves with very little fuss.

How it works: This gizmo is truly foolproof: Holding the iron vertically, with the clamp facing you, secure hair on the barrel. Then press L or R (for the left or right side of your head) and hit Go. The iron automatically rotates away from your face as hair wraps around it.

Pro tip: Place hair in the iron about an inch off the ends and curl up to midshaft for a casually tousled effect.
The tool: Agave Healing Vapor iron,

Try it if... You're a regular flatiron user—and your hair is starting to show it.

How it works: Fill the chamber on this conditioning iron with the brand's cult-fave hair oil. When the iron heats up, the oil transforms into tiny moisturizing particles that penetrate your hair as you pass over each section, eliminating frizz and sealing split ends. (Don't worry—no oily residue is left behind.)

Pro tip: Keep the chamber and top of the iron as level as possible to maximize the vapor production. You get more steam when it lies flat.
The tool: Rowenta Straight Express iron,

Try it if... Your hair is hard to tame and you crave the sleekness that a keratin treatment provides.

How it works: As you iron, let the attached comb lead (picture how a stylist runs a comb underneath the straightener to unkink strands before the iron passes through). The comb's teeth are heated, so they stretch and smooth hair before it hits the plates. The result? Expert-level polish.

Pro tip: Use clips to isolate hair into easy-to-manage sections no wider than the plate, says New York City stylist Johnny Gaita.
The tool: Revlon Laser Brilliance straightener,

Try it if... You'd like to go straight but refuse to abuse your healthy hair.

How it works: Wait for the flashing red light—it indicates that the infrared heat is ready to work its magic, smoothing hair without scorching it or stripping natural oils. Clamp a 1-inch section between the plates, choose your heat setting (from among 30 options) and glide through.

Pro tip: "Everyone always assumes that the higher the heat, the straighter hair will get," says Gaita. False! To find the best setting for your texture, start low (around 330 degrees) and work up only if you have to.
The tool: Toni & Guy Tourmaline Ceramic Curved Plate straightener,

Try it if... You want a softer, blown-out look with a little bend at the ends.

How it works: For basic smoothing, run the iron over a 1-inch section of hair from roots to tips. For a flip, when you get three-quarters of the way down, rotate the iron outward 360 degrees and continue with hair wrapped around the plates' curved edges (see photo, below).

Pro tip: "Most women like movement around their face," notes Syfu. To get it, slide the iron away from your head instead of straight down.

page contents